Our Mission: BGCoaching & Consulting is dedicated to assisting individuals and organizations create lasting change. Barbara Gottesman, Founder and Certified Coach, inspires her clients to make their next steps really count by clarifying motivations, needs and goals, and developing effective action plans that work.
Contact Barbara to set up a free sample coaching session today and to find out how coaching can serve you in these areas and more:
Career transitions
Health and wellness
Relationships
Leadership and management development
Parenting, life balance and other lifecycle changes
Personal growth and spirituality
Now Available!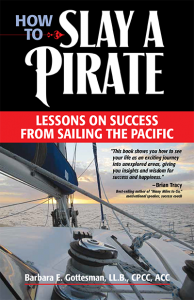 How to Slay a Pirate: Lessons on Success from Sailing the Pacific is the ultimate guide to achieving exciting and real success by inspiring you to set your goals in motion, slay your pirates, and finally achieve what you've only dreamed of until now.